stock here: more hubris, pretending that POS Harari IS NOT saying that people are no longer needed. That is exactly what he is saying, he has disdain for his own species. He must be Jewish and thus "above the Goyim", to his credit "at least" he is gay, LOL.
Debunked: A quote by Yuval Noah Harari that technology will 'replace people' is missing context
An image containing the quote has gone viral on social media. Not the one immediately below, that is from an interview with Mark Zuckerberg, a titan of a clown. It's all a big script, they tried to normalize Zuckerberg a month back with a podcast with Joe Rogan, it didn't work. But they pretended that Zuckerberg was avidly wrestling with friends using Jujitsu. Seriously, do you think he actually has any friends? Would you even like to touch this piece of work unless to choke him out?
And that dumbo ear look…..never good for early childhood experiences, everyone teasing and bullying the wearer, it must be that way throughout history.
Sep 2nd 2022, 11:32 AM 4,150 Views 0 Comments

A VIRAL IMAGE on Facebook contains a quote from author Yuval Noah Harari suggesting that technology will replace human beings in the coming years.
The image features Harari's picture alongside a headline: "Yuval Noah Harari spills the beans: 'We just don't need the vast majority of the population'."
Text beneath that headline also reads: "Top World Economic Forum adviser Yuval Noah Harari has declared in a recent interview that the 'vast majority' of the world's 7.5 billion people are simply no longer needed due to technological advances in artificial intelligence, machine learning and bioengineering."
The image has been shared hundreds of times on the social media platform, often in a way that is taken out of context to imply that Harari would like to see this happen.
This picture makes him look quite better than his Golum evil self, more of that Telsa swagger. Its a fake picture, the real Yuval is a piece of sheet.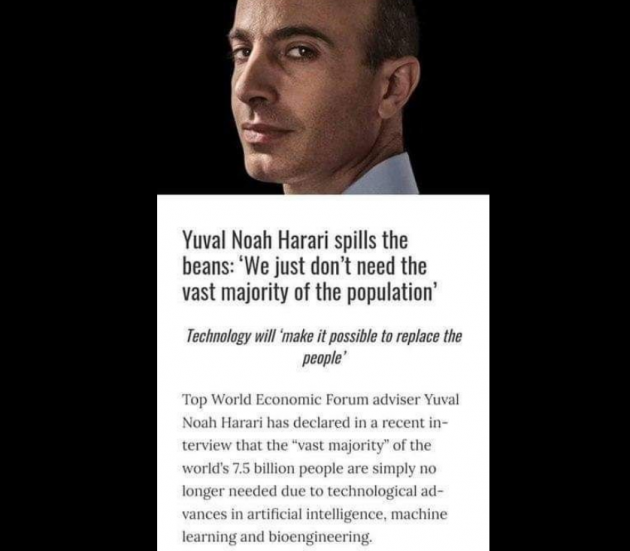 However, in the full interview in which the quotes appear, it is clear that Harari is actually expressing his opinion on the state of the world, rather than something he wants to see come to pass.
He specifically calls the scenario in which technology replaces people as "dystopian" and suggests that humans could be part of the future in different ways, namely by adapting their skills and outlook how society functions.
Nevertheless, many posts have re-shared the image of Harari's quote to suggest that he is advocating for a reduction in population or the replacement of humans.
"YNH is devoted to slaying future generations to decrease human population on earth," reads one on Facebook. Another says: "These people think you're redundant."
Others link Harari to the World Economic Forum and its founder Klaus Schwab.
Schwab is a frequent target of conspiracy theorists who accuse him of helping to orchestrate the Great Reset, an unfounded theory which claims that elites have used the Covid pandemic to dismantle personal freedoms and establish a one-world government.
But what did Harari actually say?
The quotes come from an interview given to the Ted Audio Collective, which was posted online on 9 August, where Harari is comparing economic models in the middle of the 20th century to current economic models.
Here is the full quote which features in the image being shared on social media:
If you go back to the middle of the 20th century, it doesn't matter if you're with Roosevelt in the United States, or in Germany with Hitler, or in the USSR with Stalin. [When] you think about building the future, then you're building materials are those millions of people who are working hard in the factories, in the farms, the soldiers… you need them. You don't have any kind of future without them.
And now, fast forward to the early 21st century when we just don't need the vast majority of the population […] because the future is about developing more and more sophisticated technology, like artificial intelligence, bioengineering. Most people don't contribute anything to that, except perhaps for their data. And whatever people are still doing which is useful, these technologies will increasingly make redundant and make it possible to replace the people.
A few minutes later, Harari specifically warns that technological advancements could leave humans behind and displace traditional jobs, which may be more difficult to re-train for.
He also calls this scenario "dystopian" when suggesting that a change in perspective for how society works may be needed in the future.
Asked if humans will need to stop considering jobs as the central goal of the world economy, Harari says: "If we can re-define building communities or raising kids as a really important job, maybe as the most important job of all and pay for that, maybe these dystopian scenarios will not come true at all."
It is therefore misleading to suggest that Harari welcomed a reduction in the world's population or the replacement of humans by artificial intelligence.
Rather, he warned about the consequences of a possible unwanted future in which humans find themselves less relevant because of technological advances.
The Journal's FactCheck is a signatory to the International Fact-Checking Network's Code of Principles. You can read it here. For information on how FactCheck works, what the verdicts mean, and how you can take part, check out our Reader's Guide here. You can read about the team of editors and reporters who work on the factchecks here.